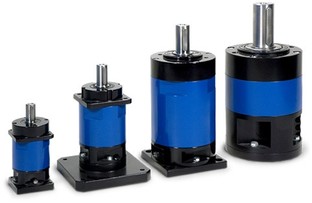 PRECISION PLANETARY GEARBOXES
Our gearboxes are manufactured for prevailing utilization in the following applications:
Machine tools

Machines for woodworking

Transfer machines

Printing machines

Automatic machines for packaging

Automation

Mechanical hands

Silk-screen process machines

Linear guides
The REP series is available in 4 sizes (075, 100, 125 and 150), with 1, 2 or 3 reduction stages, with two or three types of output shaft (AU...) and two types of output flange (FLT and FLQ).
Housing
: made of special nitrided steel to assure strength, high reliability and long life.
Flanges
: input and output flanges made of aluminium and available in several versions.
Shafts
: made of hardened and tempered alloy steel.
Gears
: made of casehardened and tempered alloy steel, with ground toothing.
Bearings
: high quality and suitably sized to assure long life and noiseless working.