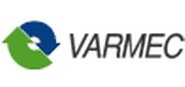 In line helical gear reducers with one, two and three reduction stages
VARMEC gear reducers and motor- reducers have been entirely designed using leading edge technical computer software.
Each single component has been designed and tested considering the maximum loads applicable to the reducer in compliance with AGMA 2001-B88
Main features are:
modularity
compactness
universal mounting
high efficiency
low noise level
hardened and tempered steel gears
unvarnished aluminum casings in sizes 141 – 191 – 162 – 202A – 252A – 253A – 302A – 303A, varnished high resistance cast iron casings in other sizes
input and output shafts in high resistance steel
Manufacturing Features
The manufacturing process of the various components is made with modern CNC machinery that gives maximum precision construction.
All gears are made from hardened and tempered alloy steel with successive corrections to increase performance and reduce noise levels even while running with a load.
VARMEC gearboxes are available in 4 sizes (141-191/241-281-381) for the types with only one stage of reduction and in 9 sizes (162-200- 250-300-350-450-550-580-600)
for the types with two and three stages of reduction.
Input power from 0,09 to 54 kW
Torque from 15 to 3000 Nm
Reduction from 1:1,2 to 1:317
Every gearbox can be supplied with IEC input flange (RCV) for IEC electric motors or in the solid input shaft (CV) version. Input flanges NEMA are also available.
A wide variety of output shaft diameters are available for each gearbox size.