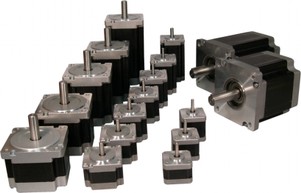 NEMA 17 standard flange
Torque up to
0,5Nm (71oz-In)
Current from 0,7Arms up to 1,7Arms
NEMA 23 standard flange
Torque up to
3Nm (425oz-In)
Current from 0,62Arms up to 6Arms
NEMA 24 standard flange
Torque up to
3,2Nm (453oz-In)
Current from 4,2Arms up to 6Arms
NEMA 34 standard flange
Torque up to
12Nm (1416oz-In)
Current from 2,8Arms up to 10Arms
NEMA 42 standard flange
Torque up to
29Nm (4107oz-In)
Current from 5Arms up to 10Arms
Our stepper motors are manufactured in standard NEMA flanges which facilitate their installation both on already existing systems and on new applications.
The motors with torque higher than 1,5Nm (213 oz-in) are available with shaft with single or double flat, for a simple and secure fastening.
Upon request, we can provide stepper motors with key and double shaft.
Stepper motors with NEMA34 and NEMA42 flange have separate windings (8 wires) that allow their use both in bipolar series and bipolar parallel.